There are many aspects to sex work, but none are as prominent as setting the mood with your client. It's important for all parties to be relaxed during sessions, and finding ways to break the ice can be tough.
In our experience, we've found that one of the best ways to set the mood with your client is with a dining experience.
Dinner date bookings with escorts have been growing popular recently, and it isn't uncommon for clients to request to dine with the escort before proceeding with the rest of the evening or even requesting a girlfriend experience.
But how does food set the mood, and how do you incorporate dining into the sexual experience as an escort?
Well, everyone has their own way of going about things. But this Steak and Blowjob Day, we'll tell you all you need to know about incorporating dining into the sexual experience with your client.
On top of that, we'll discuss different ways to create the right dining atmosphere with your clients and the benefits of doing so.
Let's dive in!
Why is dining important in the client-escort experience?
One thing to remember about the sex work industry is that clients pay for an escort's time and attention. Now, clients may want different types of attention, and they might want to spend their time differently. However, a dining experience is one of the universal ways to kick off a client-escort experience where escorts can give their full attention to the client.
For many people, there needs to be some sort of connection before diving into a sexual experience with someone. Many escorts report that clients that take them out on dates tend to be more engaged, responsive, and comfortable during the entire experience.
On top of that, some people simply want someone's company and are willing to pay them for it. Adding a dinner date to the entire experience enhances the connection, which is how you foster regular clients that come back to you regularly.
Now, not all clients are keen on dining with their escort before proceeding with the evening. However, for those that do, a simple dinner where you get to talk and interact with each other can go a really long way.
So, the next time you set up a meetup with a client, you may want to consider adding dinner to the itinerary.
How to incorporate dining into the sexual experience
While there's a huge upside to incorporating dining into the sexual experience as a sex worker, actually doing so is quite complicated.
To start, you have to determine if this is something that the client wants. After all, some clients want to be completely incognito and may not want to be seen on a date with someone else in public. And even when you find a client that would like to incorporate a dinner date into the experience, you have to set realistic expectations. 
It's important that the client understands that neither of you wants to attract unnecessary attention, so they shouldn't expect you to be physically all over them during the dinner. This could differ in the Girlfriend Experience. Additionally, it's important that the client also understands that any costs during the dinner should be shouldered by them, which is normally on top of your escort fee.
When dining with a client, it doesn't have to be too fancy or intricate. A nice and simple romantic dinner area would suffice. That way, you can share stories, flirt, and have a nice meal together before going on with the evening.
Remember, the modern sex work industry is vast, and there are many types of services that escorts can offer. And if you want to incorporate dining into your client-escort experience, then you'll definitely find a lot of clients that will enjoy it.
Benefits of adding dining to the client-escort dynamic
It wouldn't be a surprise if you're wondering why you would want to add dinner to the experience in the first place. Well, there are many benefits to a dinner date, from safety reasons all the way to forming a bond with your client to keep them coming back.
On top of that, the benefits of adding dining to the dynamic can be different for every person.
That said, here are some of the key benefits of adding dining to the client-escort dynamic:
Allows you to form a stronger connection with clients

Gives you extra time to screen clients

A more fun experience for all parties

Can serve as an ice-breaker for the experience

Allows you to set realistic expectations in a controlled environment
Culinary experiences that escorts and clients enjoy
Dates between escorts and clients can be a lot of fun and also be very memorable. However, they are also fairly different from what you might expect from a regular date. It's important to find the right balance when choosing a culinary experience that allows you to break the ice without taking too much time from the evening.
Here's a quick list of some of the different culinary experiences that both clients and escorts enjoy:
Simple dinner in a dimly lit restaurant

Desserts

Cocktails and appetisers

Coffee
Remember, you don't have to make things too fancy during these dates. However, it wouldn't hurt to level it up so that you and the client have more fun.
How clients can create a romantic and intimate atmosphere while dining
It can be hard for clients to figure out how to create a romantic and intimate atmosphere when dining with an escort. However, it's important to remember that these dates require effort from both sides. While you should expect clients to put in the effort to initiate conversation and set the mood, there's also some responsibility on the escort's end to form a nice dynamic.
That said, here are some tips clients can keep in mind when setting the mood during a dinner date:
Relax and just be yourself

Act like you would on a regular date

Talk to the escort, but try to avoid personal questions

Crack jokes and smile

Don't be afraid to let the escort take charge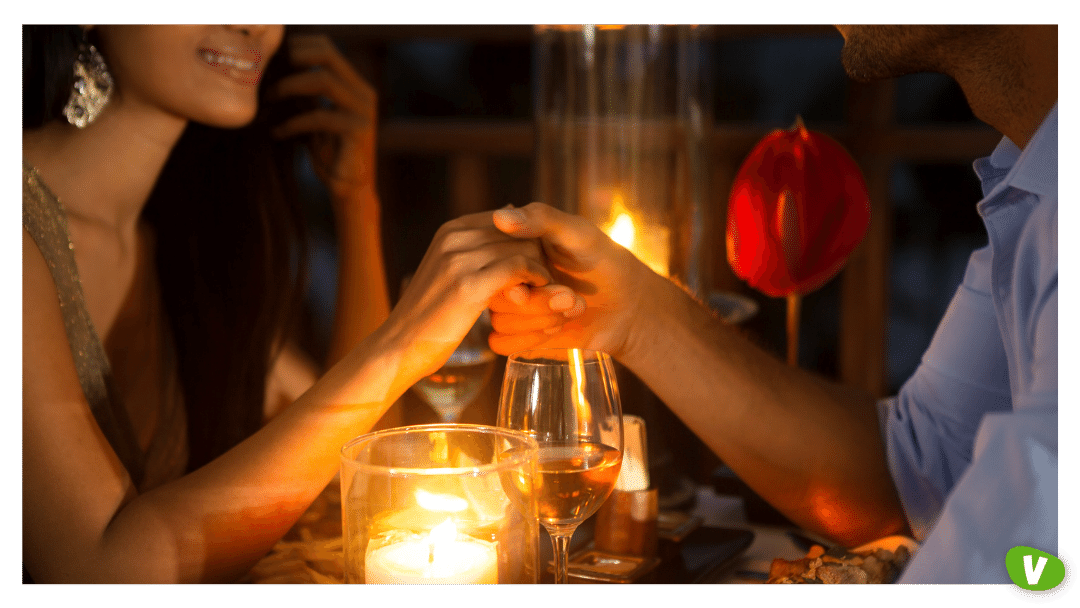 Sex worker tips: Creating a memorable dining experience for clients
As a sex worker, it's your job to ensure that your clients leave the experience satisfied. Before anything, though, you must set boundaries that the client understands and respects. If ever these boundaries are broken, you have the full right to leave, which is why most experiences start with setting expectations for everyone.
That said, after all the formalities, creating the best experience for you and the client can still be tough. 
Here are some tips for setting the mood with clients during a dinner date:
Make sure the client has realistic expectations

Say things that ease their mind and get them comfortable

Talk about the food

Listen to what your client talks about and respond

Make sure to have fun
How dining enhances the Girlfriend Experience for clients and workers
There are many clients that go to escorts in search of the Girlfriend Experience. There are many clients out there that are lonely and just want someone's company. And a lot of the time, these encounters aren't even sexual and just involve talking and hanging out.
There's no better way to enhance the girlfriend experience for clients and yourself than a dinner date. This is the classic way people get to know each other, and it's a great way to enhance your dynamic with your clients as well.
The takeaway
Sex work is a complex profession. And as the industry evolves, so does the way escorts connect with clients. Food and foreplay can go hand in hand as a dining experience can help form a stronger bond between you and your clients. So, you might want to consider adding this to your list of services soon.