Often, when we think of sex work, we think of an older man visiting for a one-on-one service. However, this common stereotype doesn't make up most all sex worker bookings. In fact, many women book with sex workers, and they're not always there for a quick two-person romp.
That's right. This National Threesome Day we're exploring the world of threesomes. But not just any old threesomes, we're looking at threesomes where one party is a sex worker. Whether couples want to fulfil a fantasy or can't find a third party amongst their friends, sex workers are a common player in many threesome scenarios.
If you're considering a threesome with a sex worker, finding resources or couples that want to talk about their experience can be tough. Sadly, this topic is still rather taboo. So, we're on a mission to ensure you're informed before getting started.
Scroll down to learn all you need to know about a threesome experience with an escort.
Everything you should consider before a threesome with an escort
Before embarking on a new sexual journey, there are some considerations you need to make with your partner.
Threesomes with a couple and an escort
Firstly, you need to be open with each other about why you want this experience. If you're both turned on by the idea, it's a green flag to go ahead. However, if one party is just doing it to appease the other, you might need to delve deeper into this. You shouldn't continue if one doesn't genuinely want to try it.
Secondly, you need to discuss your boundaries. This is the most important aspect of organising a threesome, and you can't assume your partner and the sex worker are into the same things as you. Are you looking for a penetrative experience? Or do you want to watch your partner hook up with someone else? Get clear on what you want and tell your partner. Alternatively, listen to their needs and respect them, too.
Finally, choose the escort together. Since you'll both be involved in the play, you should both be attractive to the sex worker you contact. Take time to fantasise together and ensure both give enthusiastic consent to the escort you decide on.
Threesomes with two sex escorts and a client
While focusing on a couple and an escort dynamic is easy, this isn't always the case for threesomes. In fact, more often a client will engage in a threesome dynamic with two sex workers. But what should you know before going in?
If you're engaging in a threesome with two sex workers, ensure that boundaries are clear. This includes your boundaries and those of the escorts too. Take a moment before you get into the action and discuss any worries. As professionals, the sex workers will listen and remember your needs. Remember, your boundaries protect them as well as you. But you must do the same and keep to their boundaries.
Before you book with the two escorts, be transparent and tell both that you're looking for a threesome scenario. Not all sex workers enjoy group dynamics, and it's unfair to spring the proposition on them at the last minute.
You should also bring any necessary condoms or lube. Don't expect someone else to, as you could be let down.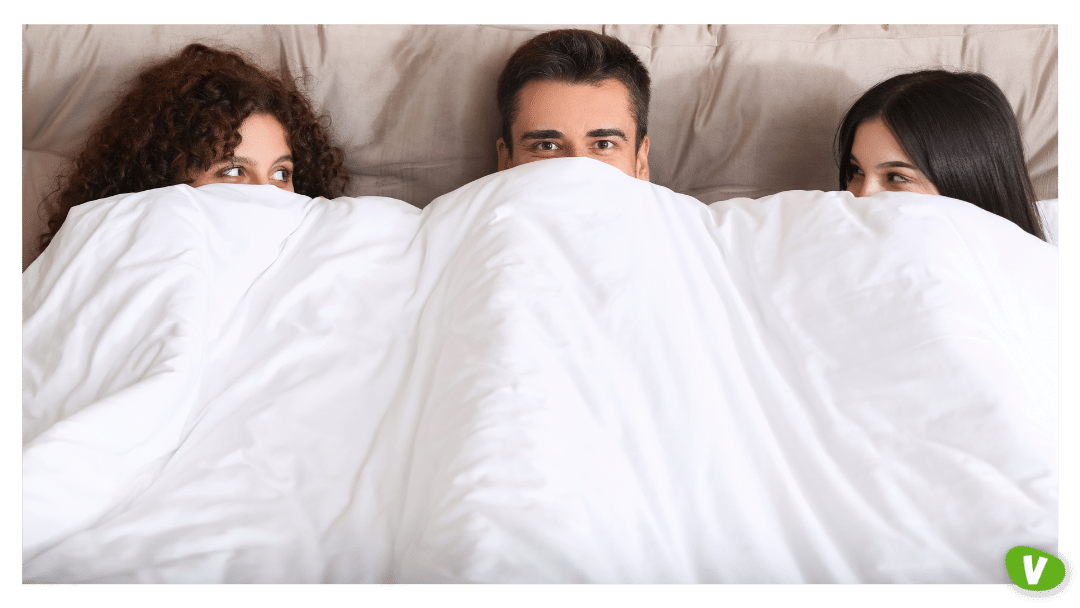 The importance of clear communication in a threesome
Clear communication is a must in any sexual scenario, not just threesomes. This ensures everyone's on the same page and having a great time.
For example, you need to feel confident in speaking about your needs. If something doesn't feel good, you have every right to say so. This will ensure everyone has a fulfilling experience.
Plus, the sex worker won't know anything about your relationship or turn-ons. You don't need to tell them your entire relationship story, but give them information on your sexuality, kinks, and desires. This will help them gauge how to play with you.
Of course, always remember to tell the sex worker that you're booking for a threesome from the get-go. 
Setting boundaries before a threesome: Why and how?
Similarly to clear communication, you need to be upfront with your boundaries from the start.
Boundaries are there to protect you from an unenjoyable scenario, and they're also there to make it as sexy as possible. For example, someone's boundary might be 'no oral sex'. However, it could also be related to specific kinks, leaving another party out, or touching certain body parts.
Though it might feel awkward at first, explain your boundaries to your partner and the escort and listen to theirs. Remember, the sex worker will also have professional boundaries, and it's essential to respect these too.
How to manage your expectations of a threesome with an escort
If you've never had an experience with an escort before, you might not know what to expect.
The best way to manage your expectations is to have an open discussion beforehand. This way, everyone will have the same understanding of the aims and limits of the situation.
Additionally, it can be helpful to read about other couples' experiences with sex workers and threesomes. Many online forums (such as Reddit) offer personal accounts of threesomes with escorts, and these experiences also offer tips for newbies. Other great sources to explore include online blogs and articles.
Always note that all experiences are different. Reading about others' experiences will give you an idea about your expectations, but you must remember that your experience might be completely different. An open mind and strong boundaries are the best tools to equip.
Additionally, sex between three people can be tricky. It's best to go in with this understanding and more realistic expectations.
Potential insecurities that occur in threesomes and how to navigate them
While a threesome with an escort sounds super sexy on paper, threesomes and sex workers do have the potential to highlight insecurities. This isn't necessarily a bad thing, as you can use this awareness to build and strengthen your relationship.
A typical insecurity is jealousy or not feeling like enough for your partner, which arises if your partner focuses on the escort. Make you and your partner enter the scenario with the same mindset – to prioritise each other. While there are three of you in the experience, you're trying out this fantasy together and should make each other feel included. Use eye contact, verbal affirmations, and sexual touches to keep each other involved.
If you're keen on trying out kinkier sex, one partner might feel insecure about their desires, especially with a new person in the dynamic. The best way to navigate this issue is to take it slow. Start slowly with any kink play and see how everyone reacts. Also, remember you can always say no and stop if you want to.
Respect and consent in a threesome scenario
Consent and respect are key pillars of any threesome, and they should be involved in all sexual encounters.
The best ways to maintain respect and consent include:
If anyone doesn't look comfortable at any point, stop, and verbally ask them if they're okay
Talk about boundaries and desires before you start
Continually check in with each other to make sure everyone is okay
Don't leave anyone out. This is an experience that should be fulfilling for all three of you.
If anyone says no, respect their wishes and stop
Use condoms and change them if you're switching between partners
Discuss these points with your partner and the escort before getting started to set yourself up for the best sex.
The takeaway
Deciding on a threesome with an escort is nerve-wracking, but it can also be super exciting. This is a chance to explore your hidden fantasies with your partner and an experienced sex worker – what more could you want?
Always take time to make sure everyone's having a threesome for the same reasons. Also, don't skip the consent conversation. Take it slow, and most importantly of all, enjoy it.
Ready to take the leap and try a threesome with an escort this Threesome Day? Book your escort now.