So, you've swiped right, made a match, and now you've set an actual date. However, instead of feeling excited, you're nervous and feel like you want to ghost your potential partner. Where are the butterflies and positive emotions?
While this pre-date stress is enough to make you give up on dating, it's crucial to remember that this is a common feeling. Feeling nervous before a first date (or even a second) is normal, but that doesn't mean you have to suffer through it. Knowing what to do and expect on a first date is vital to calming these nerves.
In this article, we're looking at everything you need to know before embarking on a dating app date. From general etiquette to how to discuss sex, we're covering the basics to ensure you have a great time.
Why are first dates so important?
A lot of pressure is put on the first date, and rightfully so. This is your time to get to know a potential partner and determine whether you have chemistry in real life – not only on a smartphone screen.
Our brains can determine traits such as status, trustworthiness, and attractiveness in a fraction of a second. So, first impressions do count. You should use the first few dates to assess whether your match is right for you but don't take it too seriously. Having fun and meeting new people should be your primary aim.
First date etiquette: What to remember
Humans make subconscious judgements very quickly, especially on a first date. Make sure you remember your first date etiquette to impress your match. The rules are different when you're no longer messaging on Tinder.
Use the points below to show up confidently and respectfully:
Be casual and polite – Meeting someone you matched with online doesn't need to be an over-the-top situation. Most first dates these days are pretty casual, allowing you to see whether you get along in person. Don't forget your manners, though
Have an open mind – While a dating app profile gives you good information about someone, you won't know anything. Be open-minded about your date and try to shake off any pre-date judgments. You might be pleasantly surprised by them
Don't turn up with super high expectations – Similarly, you shouldn't arrive expecting to fall in love. You don't know your date yet, and they might not be perfect for you. Try to balance optimism and realism
Be yourself – There's no point in dating if you hide your true self. They swiped on your profile because they want to meet you, so don't hide your true colours. This will just cause problems further down the road
Ask your date questions – Don't forget to ask your date questions. It sounds simple, but talking about yourself too much is off-putting and makes the other person feel disrespected
Relax and have fun – Finally, try to relax and simply enjoy the date. This is easier said than done, but when you arrive with a calm mindset, you're more likely to appear confident, and you'll have a good time
How to put safety first on a first date
Meeting in IRL comes with fears of catfishing and stranger danger. To be empowered while dating, you need to prioritise safety and security.
Before meeting someone from an app, here are some safety strategies to remember:
Meet in a busy public place. No going to their home on the first date
Tell a close friend or family member when and where you're going
Don't give out too much private information (i.e. your home address)
Do your research. For example, look up their social media profiles or only date "verified" profiles on dating apps
Consider phone calling or FaceTiming before to verify them
If you're on a date and uncomfortable, remember you can always politely leave. Put yourself and your safety first but be compassionate and kind when leaving. You can also ask for help from a waiter or bartender, as professionals can help you book a taxi or pretend you have an urgent call.
Discussing consent and sex on the first date
Sex on the first date will always divide opinion.
49% of UK adults have had sex on the first date, so it's something you need to be ready to discuss. Hooking up from the get-go can help you see if you're sexually compatible, and it keeps the good vibes going if you and your date have chemistry.
However, consent and boundaries should always be at the forefront of first-date sex. Yes, it can be a little awkward because you've only just met. But you both need to give enthusiastic consent before you jump into bed. You should also discuss contraception and STIs. It's best to have these conversations before returning to someone's house.
If talking about consent or contraception is making you blush, it's a sign you should skip the first date sex. Leave the sexy action until you feel more confident and comfortable around each other.
Want to improve your skills? Learn more about the art of seduction here.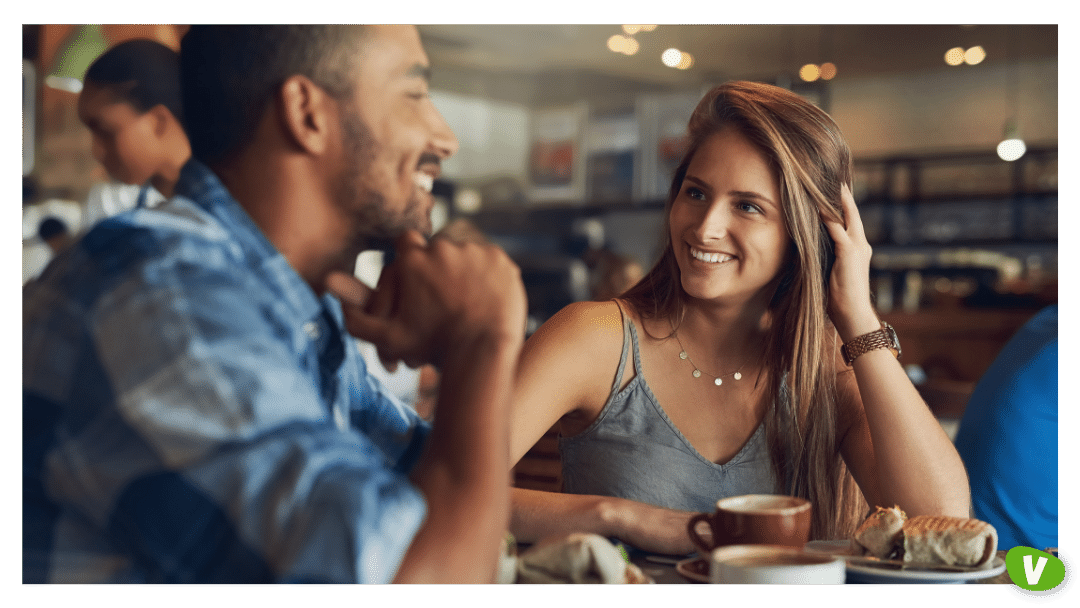 First-date activities and ideas
Planning your first date can be intimidating. Your plans set the tone for the event, so you don't want to get it wrong. Luckily, we have some expert-approved first-date ideas that'll work for most personalities.
A coffee date is an excellent idea if you want to get to know someone in a low-key environment. This takes the pressure off a potential post-date romp, as coffee dates happen earlier in the day. Great for anyone who wants to avoid first-date sex.
However, if you do want the opportunity to potentially sleep with your date, plan an evening date. Dinner and drinks are a classic combination, but you can mix up the usual formula by attending a bar trivia night, picking a board game bar, or any other interactive experience. Just remember to drink responsibly.
Other great first-date suggestions include a city walk, visiting local museums or galleries, or even taking a class together. Explore eight more first-date ideas here.
The takeaway
Nothing beats the rush after a great first date; hopefully, you'll feel this exhilaration soon. Until then, we hope this information has prepared you for the big event. When in doubt, just be yourself and be respectful. Good luck.
Want more sex and relationship advice? Check out the Vivastreet blog to learn more.