Does the thought of a vibrator make you hot under the collar?
First of all, you're not the only one. And secondly, you can bring these fantasies to life with an escort or with your client. However, you must make sure you follow the right etiquette before embracing sex toys in the bedroom. With National Sex Toy Day around the corner, there is no better time to explore sex toys.
In this blog, you'll find out everything you need to know about introducing sex toys to your sessions. We've split the content into a guide for clients and escorts to help everyone learn the dos and don'ts of dildos.
Ready? It's time to dive in.
Do escorts allow sex toys?
Yes and no. Like any aspect of sex work, it's up to the sex worker to decide what services they want to offer. For example, some escorts find toys a thrilling addition to their work, while others prefer to keep the extras out of the situation.
Don't feel dismayed if you find sex toys arousing. Most sex workers are open to toys in their sessions. The key is discussing the topic before you get started, and don't assume they'll be okay with any toy you bring – but more on that below.
Similarly, escorts shouldn't assume that all of their clients are keen on adding toys into the mix. If you want to integrate sex toys into play with a long-term client, it's best to have a clear conversation beforehand.
Why use sex toys? How sex toys can benefit your sex life
Sex toys refer to an extensive range of gadgets and gizmos designed to heat up your sex life. From thrusting vibrators and dildos to vibrators and nipple clamps, the world of sex toys is vast and varied. Here are some of the main reasons you might want to consider them:
Adds variation – Even if you've got a great sex routine, adding a toy is an easy way to spice things up
Experimentation – Do you know every one of your turn-ons? A sex toy can help you learn more about what you do (and don't) enjoy
Naughtiness – There's something forbidden and naughty about sex toys, making them extra saucy. Perfect if you want to boost foreplay or overall arousal
Stronger orgasms – For some, sex toys can lead to stronger or multiple orgasms
More sexual experience – Finally, using a sex toy gives you more experience in the bedroom. Who doesn't want to become a better lover?
Fun fact: Sex toys have also been proven to boost your self-confidence and mental health. Even more reason to play.
Are you looking for new sex toys to add to your collection? Why not check out our handy list of sex toys everyone needs in their collection this National Sex Toy Day?
For clients: How to ask your escort about sex toys
If you want to start using sex toys with your provider, don't surprise them and expect them to say yes.
Adding dildos and toys into your play must be a mutual decision, so have that all-important conversation beforehand and explain how sex toys will make the experience even sexier for you. Using a positive tone will show your escort how keen you are, and it'll likely turn them on, too.
When broaching the conversation, be aware that many escorts will not discuss sexual details over messages for their protection. It needs to be a face-to-face conversation, which might mean you'll have to wait a session before you can use the toys. But the wait will be worth it!
If you're seeing an escort for the first time, you might want to wait a while and build up a rapport before asking for sex toys.
You might already have a sex toy that you want to use but don't feel offended if your escort wants to use their own. This doesn't mean that they don't trust you. If anything, it's a good sign as they're putting their safety and professional hygiene first.
If you want to use a specific toy, use clear communication to talk about your desires. Some sex workers may also be open to gifts, such as a new and unopened sex toy.
For escorts: How to approach sex toys with your clients
If you're interested in experimenting with sex toys or have noticed a client keeps hinting about sex toys, it might be time to add them to your sessions.
Politely bringing sex toys up as an added extra gives your client the opportunity to talk about their desires without the pressure of being the first to mention them. However, be careful not to stress sex toys too much, as if the client is opposed to them, they might feel insecure about their performance.
As always, it's best practice to avoid talking about sex toys directly over text or messages. Have the conversation in person and use clear, open communication. Ensure your client feels heard throughout the interaction.
Many escorts prefer to use their own toys for health and safety reasons. Staying on top of cleaning toys is critical. Use specialised sex toy cleaners or sterilise them to be sure they're 100% clean. It's also good practice to use condoms over any dildos or vibrators.
Remember, it's your right to say no to sex toys if you don't want to use them. You set your services, and if a client isn't happy, they can find a more aligned escort.
Boundaries, consent & safety when using sex toys
As with any sexual contact, no play should occur until you've discussed your boundaries and safety, and both given enthusiastic consent.
Both parties should be excited to use the sex toys, and you should regularly check in with each other during the play to make sure everyone is having a good time. You always have the right to say no, and if you feel doubtful or pressured into using them, it's a sign that sex toy play isn't for you.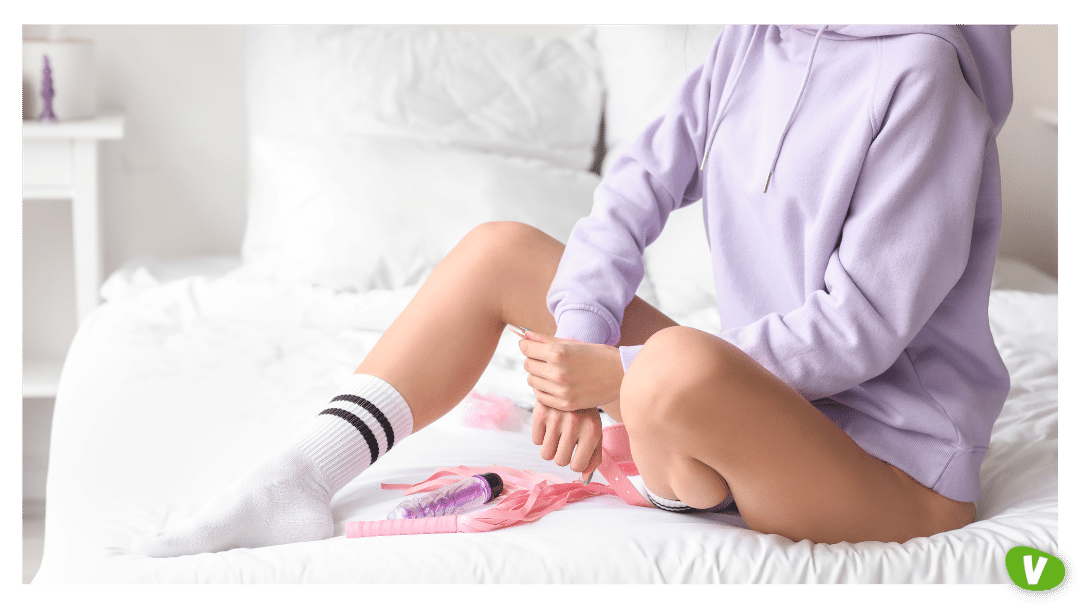 Sex toy etiquette: An overview
Don't rush into sex toys! Make a note of these quick etiquette tips to ensure smiles (and orgasms) all around.
Hygiene first!
Hygiene always comes first with sex toys. Make sure the sex toys are either new or sterilised to keep you both protected.
Bring condoms
Condoms should be used on sex toys (and for any penetration), so don't arrive without them – this goes for escorts and clients!
Stock up on lube
Lube is the secret ingredient to any sexy session. Ensure you have plenty on hand before you get started
Consent
We're repeating ourselves now, but active content is critical to any sex toy plan. Even if you've slept together before, you must consent each time.
The takeaway
Hopefully, this guide has helped you learn more about getting down and dirty with sex toys. Make sure you check out our other sex toy blogs to find out more before you get started.
Learn more about sex work and clients here.