If erotic spanking turns you on, then you're not alone.
Thanks to the popularity of works of art like 50 Shades of Grey, spanking is considered to be a great place to start for BDSM beginners. 
Our sexual fetishes research found spanking to be the 5th most-searched fetish in the UK with 40,500 online searches per month.
The collision of pain and pleasure can be an intriguing mix for some, especially when it comes to sex.
A sentiment shared by sex therapist Dr Dulcinea Pitagora, also known as the "Kink Doctor".
She believes that spanking is a popular sexual activity because the buttocks are "an erogenous zone" and is also "close to other erogenous zones we want to touch".
Whether you're interested in BDSM or want to kink up your sex life, read on to discover the various types of erotic spanking and how to do it right. 
How to get started with erotic spanking
The act of erotic spanking may seem pretty easy, but there are spanking etiquettes you should follow to ensure a safe and pleasurable experience. 
Below are some tips on how to spank properly:
Consent and safewords
First and foremost, spanking must be consensual between all parties. It should also be a cooperative effort for a healthy and constructive session.
Also, make sure you and your spanking partner decide on a safeword to be mentioned when either of you has reached your limit and no longer wishes to proceed.
Preparation
Before you begin spanking sex, remove all jewellery and accessories situated around the hand area, such as rings and bracelets, to avoid hurting your partner or causing injury.
Get your partner more aroused and prepared for spanking by caressing and warming up their behind. You can try rubbing the area or giving it a little sensual massage in a motion similar to kneading dough.
Spanking should be focused on the meatier parts of the buttocks or upper thighs, as these thicker areas are stronger and resistant to force. Ideally, the spankee's bottom should be elevated or pushed out in a way that allows the spanker to have a precise aim and avoid accidentally striking other body parts.
Make sure the spankee has sufficient airflow for breathing, as some spanking positions can involve their head being placed on a surface.
During spanking
Start with sensual light spanks to ease your partner into rough play. Gradually test the waters and increase the intensity (and speed) of the spanks. Listen to your partner's response to be sure they are enjoying the sensation and adjust the force of the spanks accordingly to achieve the desired effect. Make sure you're not spanking your partner too hard to the point of leaving imprints on the buttocks unless they have granted permission.
Make sure the spankee is comfortable
The majority of the time, the spankee will be facing away from the spanker, potentially making them less audible to the spanker. Make sure that your chosen position does not entirely restrict their ability to communicate or be heard just in case they want to exercise the safe word.
Do not exert or fatigue the spankee. Take breaks in between your spanking sessions (especially if it's a long one) – whether it be to give the target area a break or to relax from the spanking position if it's not entirely comfortable or difficult to maintain
Headaches or light-headedness can occur if the spankee's head is kept below the rest of the body for extended periods of time, so it's vital to take breaks.
When using equipment
If you chose to use equipment for spanking (see further information below), the length of equipment should be determined by how far away the spankee is from the spanker.  The shorter the distance, the shorter the equipment should be. Lengthy types of equipment (such as canes) should only be used at a range. Make sure that whatever equipment is being used to strike the spankee reaches the far side of their bottom for an accurate aim.
It's a healthy practice to ensure that the spankee is as comfortable as possible. The only discomfort your spanking partner should feel during an erotic spanking is on their behind or the agreed area they're being striked.
Aftercare
Aftercare is essential – it's important to have a follow-up conversation to check in with your partner and make sure there are no issues or concerns.
How to talk to your partner about spanking 
Asking for a spanking can be quite awkward, especially if you and your partner have never had spanking sex before.
But, if you have an unfulfilled spanking fetish, this is something you don't have to ignore. 
Everyone has erotic fantasies and fetishes, and being open about yours can lead to a more satisfying sex life.
You can start off by asking your partner if they have ever had spanking sex before. If they have, this could be the perfect time to ask if spanking could be considered in your relationship.
If they have never tried it, just let them know that you're interested and ask if it's something they are up for trying.
You can always start off lightly to build up your confidence and feel more comfortable around each other before getting into more intense erotic spanking.
9 must-try spanking positions
When indulging in your spanking fetish, it's important to find the perfect position that provides both comfort and pleasure. 
Below are some of the best and most common spanking positions you can try:
1. Standing
Probably the most effortless spanking position, the spanker approaches the spankee from behind while they are standing or leaning against a surface (such as a wall or door) and spanks them. This position is generally used for short spanking sessions, which works well for roleplay punishment or discipline in a sub-dom relationship. This position provides minimum restraint, as the spankee can walk away, but it can provide more excitement and vulnerability if done by surprise (if the spankee consents to this).
Closeness = ⭐
Control = ⭐
Embarrassment = ⭐
Vulnerability – ⭐
2. Under the arm
While standing, the spanker turns the spankee around from behind and puts their arm around the spankee's hips and belly, forcing them to bend forward for spanking. An experienced spanker is likely to be able to do this quickly and effectively, taking the spankee by surprise. In this position, the spankee is immobilised and forced to expose their bottom. As this position is the least comfortable for the spankee and can put a strain on their back, it is recommended to do short spankings. 
Closeness = ⭐⭐
Control = ⭐⭐
Embarrassment = ⭐
Vulnerability – ⭐⭐
3. Bending over furniture
The spankee has their torso laying over a desk, table, back of an armchair, or edge of the bed. Alternatively, the spankee can bend over while taking a kneeling position over the furniture. The spanker can then press their hand on the spankee's lower back to create a sense of restraint and start spanking. If the furniture is high, causing the spankee's feet to lose touch with the ground, this can increase their vulnerability making this erotic act more adventurous.  
Closeness = ⭐
Control = ⭐
Embarrassment = ⭐⭐
Vulnerability – ⭐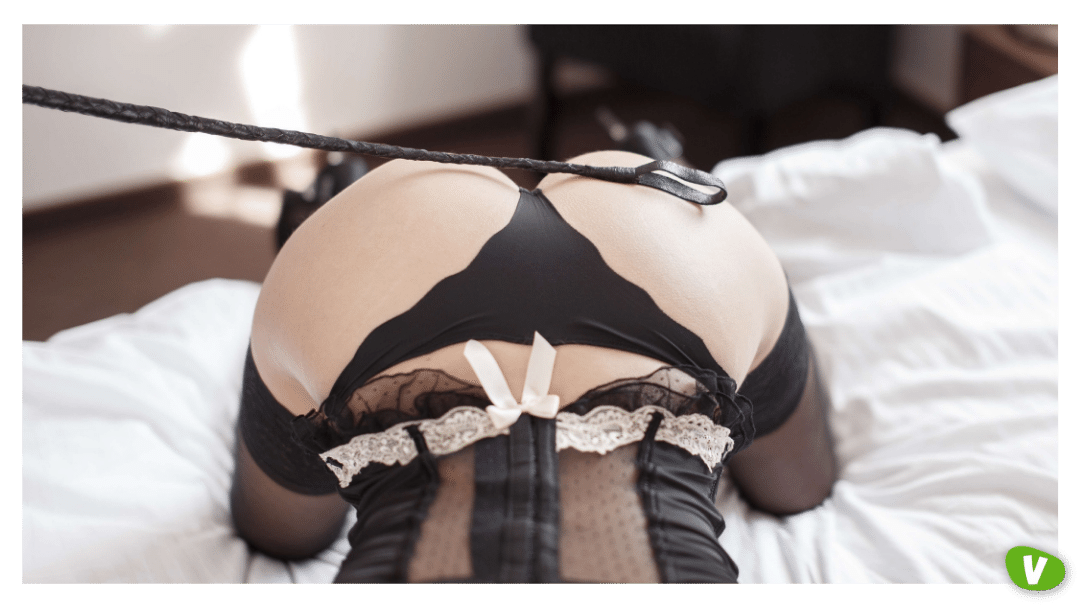 4. Over the lap
Regarded as a classical spanking position, the spanker sits down on a chair or the edge of the bed with the spankee face down over their lap and buttocks below their chin. Depending on how far over they are, the spankee's hands and feet can be on the floor or in the air. This is a great position for the spanker if they enjoy the full view of their partner's buttocks, although it may be trickier to provide an even spanking on both cheeks. As for the spankee, this position is most comfortable if they're not too large or heavy for their partner's lap. 
Closeness = ⭐⭐⭐
Control = ⭐⭐
Embarrassment = ⭐
Vulnerability – ⭐
5. Over the knee
This is similar to the previous position, except performed on a bed or wider surface. It's more comfortable for the spanker to have their back resting against the headboard, and for the spankee, as they can rest their full body on the bed while lying across their partner's knees. Having the spankee lay over the knees instead of the thighs provides the spanker more room to give an even spanking, as the spankee will be further away from their body. Over the knee spanking is a perfect position for long spanking sessions, as it's more comfortable and effortless than when done over furniture. If you both desire the buttocks to be raised in the air, the spanker can have their legs crossed.
Closeness = ⭐⭐⭐
Control = ⭐
Embarrassment = ⭐
Vulnerability – ⭐
6. Leg lock
Another variant of the over-the-lap position, the spanker sits on a chair or on the edge of the bed. This time, the spankee will be laying over one thigh while the spankee traps the spankee's legs with their other thigh, so it's resting on the back of their legs. The notion of this position is to make the spankee feel immobilised and restrained. The spanker can take it a step further by holding the spankee's hands over their lower back. If the spankee is a male, you can create a sensation of pleasure and pain by trapping his penis against your thigh. Be mindful that this position is not recommended for long spanking, as there will be more pressure on the spankee's stomach.
Closeness = ⭐⭐⭐
Control = ⭐⭐⭐
Embarrassment = ⭐⭐
Vulnerability – ⭐⭐⭐
7. Straddling the spankee
This position involves the spanker straddling their partner's back. The spankee will typically be hanging off the edge of the bed or chair so that their torso is free while their bottom half will be pressed against the surface. The spanker will straddle the spankee's back in the opposite direction (facing the spankee's buttocks) and start spanking. This position is ideal for spankees who like the thrill of having no control or being unable to escape, as they are unable to protect their behind or get away without having to lift their weight as well as the spanker's weight. If you decide to go ahead with this position, the weight of the straddler should be considered so as to not injure the spankee's back.
Closeness = ⭐⭐
Control = ⭐⭐⭐
Embarrassment = ⭐⭐⭐
Vulnerability – ⭐⭐⭐
8. The diaper
The spankee will lay on their back (preferably on a bed, table or furniture with height) with their legs in the air while the spanker stands beside them and holds them by their ankles. The spanker can push the spankee's legs towards their head for increased exposure of the buttocks while stretching the skin to make the area more sensitive. It also allows their genitals to be accessible, which can also be caressed in between spanks for increased arousal. While many spanking positions don't allow eye contact and limited verbal communication, this is the perfect position to see your partner's expressions.
Closeness = ⭐
Control = ⭐⭐
Embarrassment = ⭐⭐⭐
Vulnerability – ⭐⭐
9. The wheelbarrow
This position is considered one of the most exposed and humiliating spanking positions. While the spanker sits on a chair, sofa, bed, or floor, the spankee sits on their lap facing away from them. Then, the spankee lowers their body forward so their face is almost touching the surface or the spanker's legs (if their legs are straight). The spankee opens their legs, or the spanker opens their legs widening the spankee's legs while trapping their hips between them. If the spankee has no underwear on, their anus or vagina will be fully exposed, leaving them extremely vulnerable. You can make this position more comfortable for the spankee by placing a pillow in front of them so they can rest their hands or chin.
Closeness = ⭐⭐⭐
Control = ⭐⭐
Embarrassment = ⭐⭐⭐
Vulnerability – ⭐⭐⭐
While performing this erotic act, depending on the position you choose, you could make it more exciting by caressing your partner's genitals.
Types of spanking equipment
Erotic spanking doesn't always have to involve hands. 
You can use equipment or sex toys to spank your partner, which can provide different sensations and sounds.
First, you need to know the types of common materials used for the equipment used for spanking:
Leather
From mild to severe spanking, you can find varied types of leather that will offer your desired effect, and can give a stingy or thuddy feeling when used for striking.
Acrylic
This type of plastic is the easiest to break and can sometimes leave welt marks on the spankee's skin.
Plastic
Delrin

– This plastic material is generally advertised as unbreakable. It is usually quite flexible and provides a stinging sensation

Lexan

– Another durable type of plastic, it's very dense and thuddy in its impact and must be used with caution

Rubber

– A thuddy material that can usually only be used in smaller doses
Wood
Dense wood

– This is used for heavy hitting and can very easily bruise the skin. When using this type of wood, you must be extremely cautious as a misplaced blow can cause severe injury to other areas of the body

Light wood

– This type of wood leaves a more stingy sensation than dense wood and can be used for longer periods of time. It can leave skin red, and inflamed and dry out the spankee's skin quickly
When using equipment for spanking, you should be mindful of its weight and hardness. 
If it happens to be more on the heavier or hard side, it should be used on fleshier parts of the body and not on areas close to the bone.
For your safety, you should never use an implement that is damaged. Make sure it's in perfect condition before using it to avoid injury.
Below are some common types of equipment people use for spanking:
Belt

Bathbrush

Cane

Paddle

Ruler

Spoon

Strap
You can also use BDSM sex toys, such as floggers.
Note: Before using any implement for spanking, you should read up on how to use it safely first or seek professional advice.
The different types of spanking
Spanking goes beyond just striking someone's behind. 
There are different types of spanking that suit various needs and fantasies and can be done from a slight slap to an extreme strike. 
Whether you enjoy spanking for pleasure or want to be spanked to orgasm, below are the different types of spanking in alphabetical order:
A
Ass spanking – Someone being spanked on their buttocks
Arbitrary spanking – A spanking given for no particular reason and done by one partner that's simply in the mood for a spanking
B
Bdsm spanking  – Generally performed by the dominant partner, this is erotic spanking during BDSM sex
Bare bum spanking – A person being spanked with their buttocks in the nude
Bedtime spanking – A spanking given before bed
Belt spanking – Someone being spanked with a belt
Bend-over spanking – Someone being spanked in a bent-over position
D
Discipline spanking – A disciplinary spanking intends to provide instruction for future behaviour as opposed to consequences for previous behaviour
E
Erotic spanking – Spanking that is given before or during sex for eliciting sexual arousal. This can also be done as an alternative to sex
H
Hairbrush spanking – When a hairbrush is being used to spank someone
Hand spanking – When someone is using their hand to spank the spankee
I
Introductory spanking – This involves spankings to introduce the spanker and/or spankee to each other's methods and preferences 
K
Knickers down spanking – When the spanker pulls the spankee's underwear down before spanking them 
M
Maintenance spanking – A spanking given, usually at regularly scheduled intervals, to ensure the spankee's behaviour is maintained at a desirable level
Mandatory spanking – A spanking that is going to be given despite the spankee's behaviour
Motivational spanking – A spanking given to encourage the spankee to put more effort into completing the desired task
N
Naked spanking – When someone is being spanked while they are naked
O
Outdoor spanking – This is spanking taking place outdoors 
P
Pantyhose spanking – This involves the spankee wearing pantyhose or sheer tights while being spanked
Playful spanking – A spanking given with light-hearted intentions in a cheery atmosphere
Preventive spanking –  A spanking given to prevent an undesired attitude, behaviour or action before it can take place
Punishment spanking – The opposite of disciplinary spanking, a punishment spanking is meant to provide a consequence for past behaviour 
R
Reward spanking – A usually more gentle type of spanking, given as a positive reinforcement for the desired behaviour 
Roleplay spanking – Spanking performed during a roleplay scenario where ideas come from the spanker and spankee's imagination and comfort level
Romantic spanking – A spanking given to create or intensify romantic emotions between the spanker and spankee
S
Special occasion spanking – A spanking given, usually in celebration, for a special event, such as a birthday spanking
Where to find the best spanking?
Looking for spanking sites to find like-minded individuals? You can try websites such as Find Spanking Partners or Fetish Hookups. Alternatively, you can find the perfect spanking experience on Vivastreet.
Spanking services
If you're single or seeking spanking services, you've come to the right place. 
At Vivastreet, there are many escorts hosting ads on our site that provide spanking services.
Here's how to find spanking services on Vivastreet:
Go to our

Escorts & Massages

page

Type 'spanking' in the keywords search bar

Scroll through the escort ads and pick your desired escort 
Whether you want to be spanked or you desire spanking escorts, you're sure to find the right escort for you to fulfil your sexual desires.
Before you delve into the world of erotic spanking, it's vital you make sure that it's consensual, and that you follow the spanking etiquette and safety rules. 
This will ensure that you and your partner both enjoy this pleasure and pain experience.